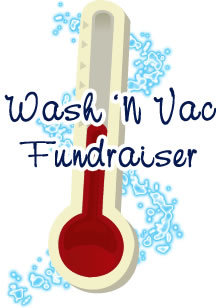 Does your organization, school, club or church need to raise money? Sell something that everyone needs…everybody loves a clean car…and everyone loves a Wash 'N Vac Car Wash!
The Wash 'N Vac Community Fundraising Program:
helps your organization raise money in a short period of time
lets your organization partner with a respected, well established brand
gives your donors something of genuine value in exchange for their contribution
requires no cash outlay
requires no order taking or delivery by your members
What do we actually sell?
You will be selling a packet of (12) $1 car wash tokens. The selling price will be $10. This provides your donor with a 20% bonus over the selling price. You will keep 50% of the proceeds from the sales. So for every packet you sell, you will earn $5; it's that simple.
What are the tokens good for?
Tokens can be used for an automatic wash, a self-serve wash, vacuuming, and vending items. They never expire and can be used at any of the four Wash 'N Vac locations:
1149 Bridgeville Hwy., Seaford, DE (next to Halpern Eye Associates)
Townsend St., Laurel, DE
Northwood Dr., Salisbury, MD (behind Pep-Boys)
Parsons Rd., Salisbury, MD (just off Pemberton Drive)
What is needed to get started?
Contact Wash 'N Vac by e-mail at: washnvac@mail.com
Be sure to include in your message the main contact's name, organization name, desired selling period, a contact phone number and best time to call.
What are the rules/restrictions?
Once your organization is confirmed, a representative will contact you to determine how many tokens you need. A bulk amount of tokens and plastic packets will be provided. NOTE: Your group must package the tokens.
The selling period will be no longer than 3 weeks.
A credit card must be provided by a responsible party that will be charged in the event that monies and/or unused tokens are not returned. The card will be charged the full $1 per token in this case. Reconciliation must take place within 1 week of end of sale date.
There is no money due at the beginning of your fundraiser. The credit card is used as security, and will not be charged unless monies or tokens are not accounted for.
Tokens CAN NOT be sold at any Wash 'N Vac location
The packets can not be sold for less than $10.
Participation is limited to twice per calendar year
Only one organization per selling period; so reserve your date today
Know what you are selling.
Wash 'N Vac Car Wash has been in business since 1994.
We offer self-serve bay washing at $5 for 30 minutes-the best value anywhere!
We have soft cloth automated washes at each location.
Our vacuums are twin-motor high power.
We are environmentally friendly: we utilize solar electric production (PV), solar hot water heating, water recycling, geothermal heating/cooling, and energy saving motor starters.
Where is it best to sell?
The obvious: friends, family, neighbors, co-workers.
Businesses- especially for their company vehicles
Groups of employees: banks, doctor's offices, real estate offices, etc.
At sporting events
They may not be sold at any Wash 'N Vac location
Wash 'N Vac Car Wash vs. Street Charity Wash
No soap, hoses, rags, etc. to buy
No standing out in the heat
No wasted Saturday or Sunday
Saves water- we recycle
Saves the environment- our wastewater goes to the sanitary sewer system; not down the storm drains
We offer a high quality wash from start to finish